Welcome to St. Jane Frances de Chantal Catholic Church in Pasadena, MD… please join us!
Dear Parishioners,
Last week we celebrated the Ascension, our Lord's reentry into heaven to be with his Father and the Holy Spirit. This week, we celebrate the descent of the Holy Spirit to energize the apostles and the Church (Acts 2:1-11; 1 Corinthians 12:3b-7; John 20:19-23). The Holy Spirit also came to give guidance and unity to the Church. In the vigil reading from the Book of Genesis (Gn 11:1-9), we see the pride of early humanity in its desire to build a tower to the sky, The Tower of Babel, and make a name for themselves. Instead they should have been trying to develop a relationship with God. As a result of their sinful pride, God confused their language so that they were no longer able to communicate with one another. Their foolish venture came to an end as the multiplication of languages led to a division among the peoples and set the stage for tribal and national conflicts, which lead to the chaos and confusion that we see in the world today.

On Pentecost, the Holy Spirit was sent not only to unite the various factions of the Jews but also the Gentiles, as well. It worked for awhile in the Church, but then again division returned, and we have a divided world, country, and Church. Let us pray that the Holy Spirit will help humanity to heal the wounds of strife and division, as St. Augustine said, "In essentials unity, in non-essential liberty, in the all things charity."
- Fr. Carl

Welcome New Parishioners!
If you are new to our parish, please call the parish office at (410) 255-4646, pick up a Parish Registration Form from the back of the church, or go to the "Join Our Parish" tab for a Registration Form. Thank you and Welcome!


Mission Statement
Our mission is to be a family of Christian faith in the Roman Catholic Tradition, through faithful witness to the Gospel of Jesus Christ in Word and Worship, and through a commitment to evangelize and energize the faith through unconditional love of, and service to the members of our Parish community, and the world in which we live.
---
Calendar of Events
See full-screen calendar here.
News & Upcoming Events
May 29, 2016: Corpus Christi Procession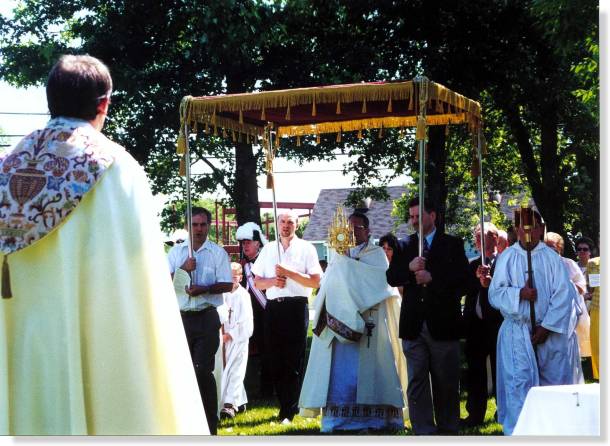 This Sunday, May 29th, there will be a Corpus Christi procession following the 11:30am Mass at St. Jane Frances. The feast of Corpus Christi is one time when our Lord in the Blessed Sacrament is exposed not just to faithful Catholics but to all the world. This is a time when Catholics can show their love for Christ in the Real Presence by honoring Him in a very public way. It is also a wonderful way in which we can show our love for our neighbors by bringing Our Lord and Savior closer to them. So many conversions are a result of Eucharistic Adoration experienced from inside the Church. How many more there would be if we could reach those who only drive by the church in worldly pursuits.
May 25, 2016: Catholic Men For Spiritual Combat!
Step up and be the man that God meant you to be! Come out of your comfort zone and meet with other men to know and live your Catholic Faith! The St. Jane Catholic Men's Fellowship will meet most Wednesdays starting on from 7:30 - 9:00 pm in the Parish Center. The evening consists of viewing an episode of Crossing The Goal (from EWTN) and going over discussion questions. We also have time for fellowship with some food and drinks. There is NO cost to you except your time. Come and join us! For more info, call Dave Horvath at 301-213-1197 or Ken Hess at 410-360-1076.
Upcoming dates are: January 13, 20, 27; February 17, 24; March 9, 16, 30; April 13, 20, 27; May 11, 18, 25.
June 6, 2016: Knights of Columbus BINGO!
Bored with Monday night television? Join the Knights of Columbus in the Parish Hall for BINGO! It's old-fashioned fun for the whole family. Doors open at 6pm; games start at 7pm. Food and drinks available for purchase.
Bingo is held on the first Monday each month unless otherwise noted.
June 15, 2016: The BEATITUDES: A Couple's Path to Greater Joy for Couples
Husbands and wives—do something together with your spouse to strengthen your marriage! Join us for six afternoons of fun. The BEATITUDES: A Couple's Path to Greater Joy is coming to St. Jane Frances. It's a marriage enrichment program that explores the Beatitudes as the path to holiness, the source of joy in Christian marriage.
The program invites couples to reflect on their relationship and guides them to understand marriage as their vocation. The videos and the book provide the input for each of the six sessions, and the handouts provide conversation starters to help couples reflect privately on their marriage.
Save the dates & Register! Sunday afternoons from 1:00 pm to 3:00 pm:
April 10, May 1, May 15, June 15, July 10, and July 31, 2016
Cost: $20 for entire 6 sessions, includes cost of book. Learn how to Run the race with grace, by joining us in the parish center. Childcare available with registration. For more information about this program, call 410-437-3048 or visit www.happy-together.net.
July 25 thru 29: Catholic Kidz Camp - "Set Sail with the Holy Trinity featuring Saint Patrick"
St. Jane Frances de Chantal Parish is hosting a week-long Catholic Kidz Camp Program for children four years old (Pre-K) to 5th grade during the week of July 25 to 29 from 9:00 am–12:00 pm each day.
Ahoy Campers! Climb on Deck! Weigh Anchor for Ireland! On this voyage you will set sail with St. Patrick, the first Bishop missionary, and travel with him on his quest to spread Christianity to the dangerous land of Ireland. Your children will grow in love for the Holy Trinity and respond to the awesome POWER of PRAYER.
Don't miss out on this Spiritual Adventure of a Lifetime!
Bring your children, invite friends and neighbors, and gather your relatives! This camp will include: Cool Crafts, Fun Games, Upbeat Music, Hands-On Activities, Creative Skits, Irish Snacks, and more!
Registration: Early registration fee per child is $20 thru June 13. Cost after June 13 will be $25 per child. All T-shirt, Music CD, & Storybook orders must be paid by June 30. Registration closes on July 10. Register Early—this program is limited to 50 campers. CATHOLIC KIDZ CAMP REGISTRATION FORM (PDF)
Volunteers: If you would like to volunteer for this summer or get more information, please contact Diane Zentgraf at 410-255-6584 or dizent@gmail.com.
Holy Door Pilgrims: Get ready for an outpouring!
Pope Francis reminds us that Jubilee years bring with them special graces. "In this Jubilee Year, let us allow God to surprise us. He never tires of casting open the doors of his heart and of repeating that he loves us and wants to share his love with us." (MV 25) A particular grace that is available during this Jubilee of Mercy is an indulgence. Click here to learn more about the Jubilee Year of Mercy opportunities.
Passing On Your Faith to Your Children
The below video addresses one of the biggest challenges facing Catholic parents, families, and parish families alike: passing on the faith to our children. (credit: Diocese of Rockville Centre, NY)
Catholic Mobile Apps
Did you know that you can use your mobile device to help enrich and practice your Catholic faith? We've compiled a comprehensive list of some of the best Catholic apps for mobile formats including apps for Prayers, the Mass, the Rosary, Liturgy of the Hours, Confession, Catechism, the Bible, and more!. Check them out at: http://www.stjane.org/links.html#apps
Youth Ministry Happenings
Confirmation
At St. Jane's, we offer the Sacrament of Confirmation to youth in High School. We are enrolling right now for the 2015-2016 year. If you are interested in learning more, we ask you to set up an Inquiry Meeting with Mrs. Claire, our Confirmation Coordinator.
Middle School Youth
We had a terrific Summer Missions Program last year. This year our Summer Missions will be June 20–24, 2016. In September, we begin Lunch Bunch, our middle school program. We meet on Sunday afternoons twice a month.

High School Youth

DROP INS– most Sunday evenings from 6:00pm–8:00pm in the Parish Center UNLESS we use that Sunday for an outing day. Check the Parish Calendar.
Knights of Columbus: Looking for a few good men
If you're interested in helping those in need, serving our parish, growing in your faith, bonding with men who share your faith, or having exclusive access to top-rated insurance protection for your family, then the Knights of Columbus is the organization for you!
The Msgr. Raymond Kelly Council Knights of Columbus at St. Jane Frances de Chantal parish is for practicing Catholic men, 18 and over, who wish to make a difference in our parish and our community as well as within themselves. Join the almost 2 million strong force that St. Pope John Paul II called the "strong arm of the Catholic Church" and see how much of a difference you can make for the better! (see: Why Join the Knights pamphlet)
---
Help for Women and Moms
Meals for New Moms
Are you willing to periodically prepare and deliver a meal to a family with a new baby? New moms in our parish need your help! To find out more, contact Susannah Kipke via .
Heart of Mercy: Healing Ministry for Women
A confidential and safe place to seek healing for coping with life's difficulties, such as depression, anxiety, post-abortion healing, relationship issues, grief and loss, anger, etc. One-on-one counseling with a licensed clinical counselor and licensed clinical social worker and spiritual support offered by the Sisters of the Good Shepherd for people of all faiths. An experience of welcome and compassion awaits you. Contact www.heartofmercygs.org or call 443-833-4332 for further information.
Volunteer Opportunity at Mary's Center
Mary's Center, a Catholic Pregnancy Center serving Glen Burnie and surrounding areas is in need of English and Spanish speaking volunteers to assist needy women and women and teens in crisis pregnancies. Training begins the last week of March at the Center in Glen Burnie. Please call Mary's Center at 410-761-8082 if you are able to help with this important ministry.
Pregnant? Need help?
Call the Gabriel Network at 1-800-ANGEL-OK.
Suffering post-abortion stress? Call Project Rachel 1-800-286-4224 or 410-
625-8491; or email rvbaltimore@archbalt.org.